Sheila asked if I would spell her for a post and since I do a little bit of writing on the side I was more than happy to accept. I currently live in Ann Arbor, MI and but I try to visit Sheila whenever I can. A year and a half ago I thought I would be visiting some nondescript medium-sized East Coast city, but I have found that Richmond to be an absolutely incredible city, and the food is no small reason why.
I have to preface by saying I am a Baltimore kid, born and raised (well not born there, but we moved before I can remember so we are going with that). I grew up with a fondness for the culinary traditions of my fair city, from crabcakes to Smith Island cakes, and I can't say that I would trade it for anything in the world. I met Sheila when we were students at the University of Michigan (Go Blue!) and we have been together ever since. I supported her when she made decided to head out to Richmond when the opportunity presented itself, hoping to follow her soon out to the East Coast. I didn't know anything about Richmond but my first trip impressed me right away.
Kuba Kuba and Acacia are two of those places I seem to see all over Richmond- a small restaurant tucked away in a residential neighborhood where you would never otherwise see one. I don't know what the zoning rules are in this city, but they allow for you to be driving around and suddenly at the corner- a gorgeous establishment. Everywhere else I have spent time the restaurants are all clearly in certain parts of town or obviously commercial property. One of the things I love about Richmond is that the food scene is so built into the fabric of the city that it's right in the neighborhoods. That makes parking a lot tougher, but that's supposed to be the charm, right?
One of the things I experienced in Baltimore is far more apparent in Richmond- pockets of downtown. There is Carytown, Shockhoe Bottom, and other little areas that each have their own unique flare- completely unconnected but equally fascinating. When people ask me about Richmond's downtown I am forced to ask, "Which one?" Ann Arbor's Main Street area kind of resembles Shockhoe Bottom and the Kerrytown district resembles Carytown (I know, strange), but even those comparisons don't work on some levels.
I also love the variety of food- you would think that a city in Central Virginia would be mostly southern or soul food with some fancy European restaurants sprinkled in. I have been shocked by the variety- and quality- of international dishes. I have had stellar Cajun, Jamaican, Barbecue, Thai (well not stellar, but good), and Cuban (Kuba Kuba is the only place that serves Cuban food almost as good as my Cuban mother's) in Richmond and I haven't even scratched the surface. I don't know how such a plethora of options manages to flourish here, but it has kept me (and my friend Matt Sadler) very busy. Food is such an intrinsic part of the culture here, which is something I never would have expected.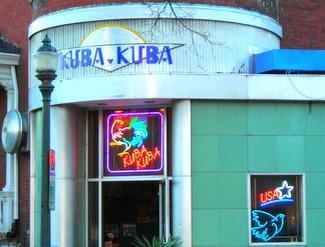 I suppose what I love the most about Richmond is the sense of character, of ownership of the city that reminds me so much of my hometown. This city, like Baltimore, is made up of people who have lived there for generations, who understand that there is something unique about their city to take pride in, not for the purpose of showing off or shoving it in people's faces (*cough* New York *cough* Boston) but knowing in your heart that you are somewhere special. I may never spend enough time in Richmond to fully appreciate what that something is for this city, but I know it's there. It's what causes people to enjoy life with all their senses and make their city as great as it can be, which reveals itself in the senses of smell and taste and the creative restaurants that exist all over the city.
So thank you Richmond for being so good to Sheila and so good to me. I hope we get to spend a great deal of time together, and I can't wait for the next course.
- Weston